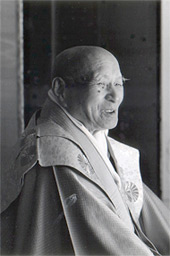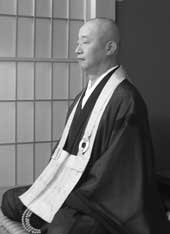 Reiko Mukai Roshi:
Nachruf auf Oi Saidan Roshi
At 2:57 AM on February 27, 2018, our OI-Saidan-Roshi died in Seirei Mikatahara Hospital. He was born on February 26 in 1915, so he just turned 103 years old.
In the evening of 24th, he gave "Mumonkan Teisyo" at Takamachi-Betuin in Hamamatsu-city. After that, he went back to Miyamano-Sato nursery home in which he has been living safely and with comfort since last September. He got a fever on the following 25th and had signs of respiratory distress in the afternoon on 26th. Therefore, he was suddenly moved to Seirei Mikatahara Hospital.
The doctor said he got pneumonia from the flu. He recovered to a temporary lull by medical treatment and fell asleep soon after.
However, in the midnight his condition suddenly changed for the worse. When we came to the hospital he already went to another world.
It was the last time that I parted from him with holding hands saying, " I am looking forward to eating out together again." in the evening of the 26th.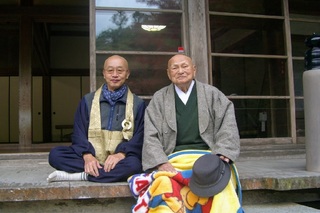 For half a century, I have been his Zen student and disciple serving him nearby.
When I remembered him, I can't help but crying, feeling gratitude to his deep love. It is not sorrow but overflowing thanks.
The everyday life of Oi-Roshi is precisely "cutting the mind of before and after." to live now and here.
There have been no rumors, reputations, sermons, in his saying. He had been living in absolute acceptance with a commanding presence.
Especially in recent years, he only said: "That's fine!" and "Thank you!" with a gentle smile.
It was a pleasure for everyone of the helpers to take care of him because his words of thanks and admiration for surroundings made them happy.
I will continue Zen way following a lifetime master of Oi-Roshi. He will be living forever inside me.
Reiko Mukai Roshi ist Schüler und Dharma-Nachfolger des verstorbenen Oi Saidan Roshi, und der Lehrer von unserem Zen-Meister Hinnerk Polenski.